Just because our drink is based on science, doesn't mean that it needs to taste that way.
Dr. Octane

How we got started.
Our founder has led an active lifestyle, everything from skydiving, rock climbing, downhill mountain biking and of course road racing motorcycles. It was all of these activities that led him in his search for a healthier electrolyte drink to use, not finding anything that would match his criteria and during the time he was contesting his first Motorcycle Road Racing championship in 2002, that our founder, Michael Aron, began to formulate and develop RaceFuelZ, a healthier hydration and recovery drink. The goal was to make a non caffeinated, low in sugar, high in potassium and packed with vitamins and minerals.
Understanding the needs of an athlete, Michael worked alongside the best flavor and nutritional developers in the United States, gathering essential data from experts and top-tier athletes alike to create RaceFuelZ.
How we compare to other energy drinks.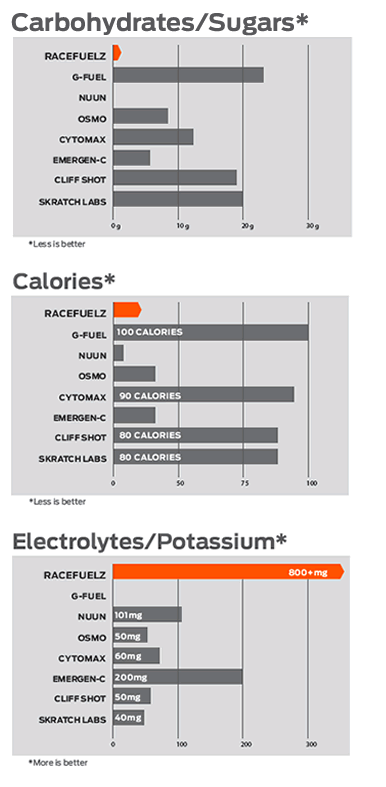 Based on an impressive number of athlete reviews and based on their successes with RaceFuelZ, we are confident that we've produced the best product available on the market. One of the main goals was to make sure the product tasted amazing. It was tricky combining a healthy dose of vitamins alongside a great tasting product, but after years of development, we're proud to say that we have achieved this task.

We believe that proper nutrition equals energy, and the same goes for proper hydration. By the time you are thirsty, you have already lost two percent of your body water, resulting in decreased performance and endurance, both physically and mentally. By utilizing the science of osmolytes, which are essential in aiding cell structure regeneration, maximizing power, endurance and thus reducing fatigue, we have raised the bar on what it means to be properly hydrated.

RaceFuelZ uses no artificial flavors or sweeteners in any of our drink products. We believe that by putting the best in, you can get the best out.
The proof is on the podium.
In 2014, while announcing the launch of RaceFuelz, Gage McAllister put us on the podium with a 2nd place finish at Daytona International Speedway. Since then, we have gone on to take over 50 podium placements and secure 14 championships with motorcycle road and supermoto racers. (Right: Martin Cardinez shown at the RaceFuelZ Pro Superbike race 2014)
Next steps
As we all lead busy lives, you needn't be an athlete to glean the benefits of RaceFuelZ. Everyone needs to stay hydrated to keep balanced and alert, so we continue to expand our reach to all walks of life; civil servants, actors, doctors and nurses, moms and dads, students and teachers.